With the national unemployment rate at 3.1%, employees have the power right now to leave their unhappy jobs. Many are finding greener pastures across the street, and that new landscape is not too hard to grow and maintain.
Working with hundreds of business owners in 33 states and Washington, D.C., Focus HR, Inc. has seen what works when it comes to perks and appreciation. We've also shared with you what doesn't work.
There are a variety of gestures that can impact an employee's job satisfaction, and they don't have to drain the budget.
We're breaking those ideas down into the following categories:
Cherished Time
Office Nourishment
Personalized Appreciation
Cultural Benefits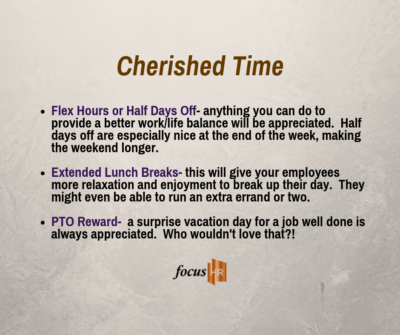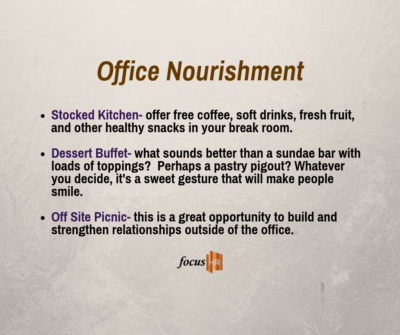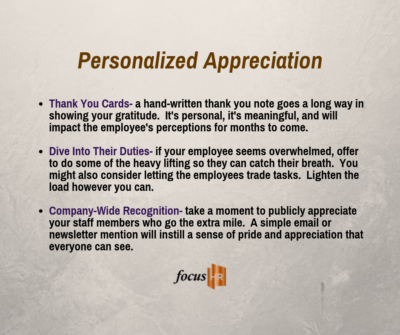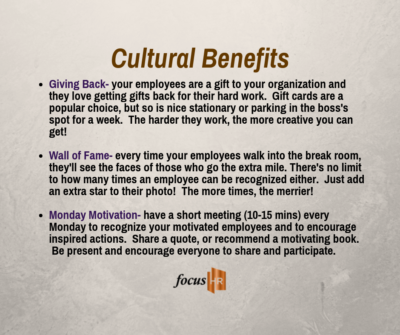 The recruiting and retention battle is nothing new, but you can try something new to strengthen your workplace morale and culture.
If you have questions about implementing these suggested perks and acts of appreciation, talk to your HR manager. Just know, if you commit to doing something you'll see the stability within your organization grow.
To speak with the experts at Focus HR, Inc. about boosting your recruitment and employee retention outcomes click here