HR Outsourcing In Phoenix
Are you a CEO or business owner struggling over whether to outsource HR functions? Our own Clint Parry has put together this guide together for Phoenix businesses to explain what small business HR outsourcing involves, how to do it and what the benefits are for employers and employees alike.
In this guide, we'll cover:
If you are interested in Phoenix HR and payroll services, you can schedule a free consultation with us here.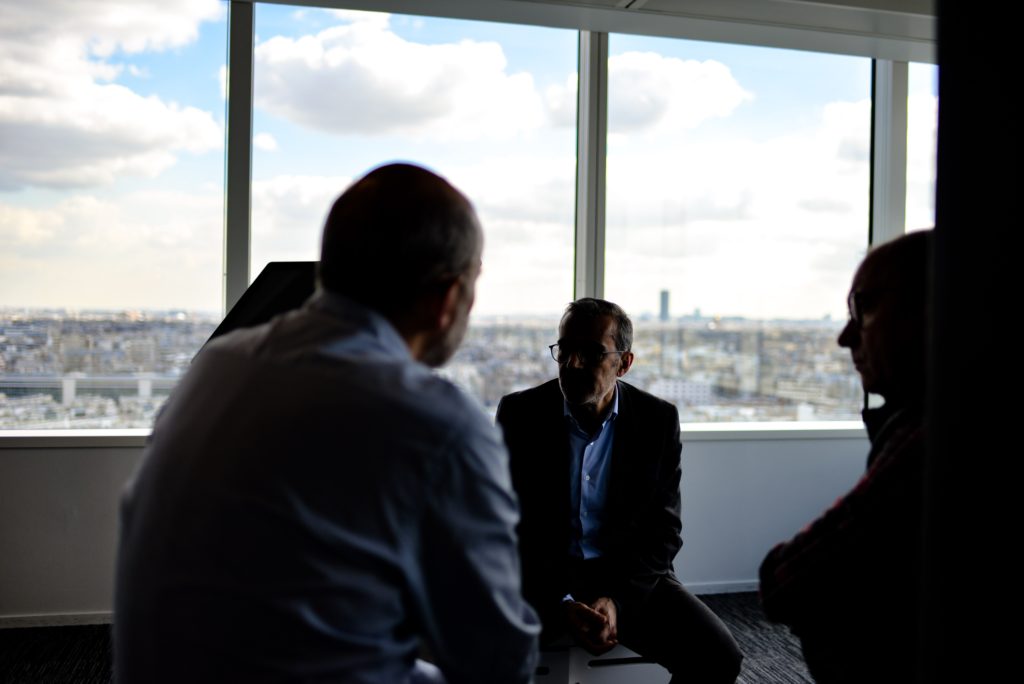 What is HR Outsourcing?
Human Resources Outsourcing (HRO) is the process of engaging a third-party hr outsourcing service providers (such as Focus HR), by contract, for an established fee, to provide pre-determined HR activities that would normally be performed within the business. HRO services are usually provided by a Professional Employer Organization (PEO). The PEO, or hr outsourcing service provider, contracts to share certain responsibilities and liabilities in the areas of human resources, workers' compensation, risk management, employee benefits and payroll administration for the employer. In this case, the PEO and its client (most often a small business owner) establish a Co-Employment (or Shared Employment) relationship where both parties have actual or potential legal rights and duties with respect to the same employee or group of employees. The business owner (client) maintains 100% direction and control of their employees.
The relationship is governed by a Client Services Agreement (CSA) which clearly details out the specific duties, liabilities and performance standards that comprise the shared employment arrangement.
Ultimately, the goal of HR Outsourcing (HRO) is to increase profitability, productivity and efficiency for small businesses while mitigating their employee-related liability. This is accomplished by transferring the administrative/transactional HR burden from the business to the PEO, essentially giving you a dedicated HR team at a fraction of the cost of staffing these resources internally.
As a result, the business can focus its time, money and energy on doing what it does best – generating revenue!
Why Should I Consider HR Outsourcing Services?
With business growth, comes complexity, especially as you add more employees to the mix. While employees are necessary for running your business, they also can contribute a greater degree of frustration, headaches and liability exposure. This is especially true once businesses have surpassed the 10-employee mark. This is a great time to consider HR business process outsourcing to a PEO like Focus HR.
Business owners already spin enough plates each day just to keep their businesses productive and profitable. The last thing they need is the "friction" caused by the administrative burden of all things HR to slow them down. Things like policies and procedures, employee handbooks, labor law compliance, employee benefits, workers' compensation and payroll all add an unnecessary level of frustration and hassle that can be avoided.
While there are many benefits to engaging hr outsourcing service providers, here are three big reasons why employers/small business owners should consider outsourcing hr functions as a viable solution/strategy for their small business:
Headspace! Trying to keep up with the constant changes to federal and state labor laws is next to impossible. Additionally, maintaining several different vendor relationships with various HR service providers (payroll, employee benefits broker, workers' compensation broker, 401K provider, third party administrators, etc. can occupy too much "headspace" and leave business owners feeling like an air traffic controller. Outsourcing HR is a great way to free up much-needed headspace.
Mitigate Risk! It's no secret we live in a litigious society that continues to witness more regulatory burden over time. Business owners, more so now than ever before, must consider risk mitigation as one of their foremost responsibilities. Government agencies like the Department of Labor, the EEOC, ICE, OSHA and others are actively and continue to surprise business owners with audit requests. Being caught off guard and not knowing for sure how compliant you are is never fun for any business owner.
Lower Labor Costs! There's far more to the cost of HR than just your payroll vendor fee. The time and money of managing all the administrative aspects of HR can add up quickly. It's like having a thousand small cuts that aren't individually very noticeable, but when combined, present a huge issue. These costs tend to multiply exponentially as you grow and add employees. HR Outsourcing offers a way to get your arms around all these costs and aggregate them into a single-source HR provider that can reduce your overall labor costs and drive new efficiencies for your business.
Ultimately, outsourcing HR functions provides a huge strategic advantage for your small business. It offers a platform for growth that can scale with you as you grow while offloading so much of the administrative tasks and legal compliance worries that can plague your business and hinder your complete focus on business growth.
Is HR Outsourcing Right for Your Business?
HR Outsourcing offers many advantages for small business owners. Here are some key criteria that can help you assess whether it makes sense to further explore the value proposition of HR Outsourcing or not for your business.
Number of Employees
While effectively any business over one employee can outsource their HR, our experience combined with client feedback, indicate that employers with 10 or more employees tend to witness the greatest benefits that a PEO like Focus HR can provide. Once the client surpasses 100 employees, then a business may assess whether hiring a full-time HR resource makes sense or not. Even in that instance, larger companies still outsource the transactional HR to a PEO. We also have many clients where our HR managers become their on-site HR staff, working in a part-time capacity.
Nature of the business
Our HR Outsourcing clients represent a wide array of different industries, from medical, hospitality, manufacturing and construction to retail, transportation, and professional services. HR Outsourcing is truly "industry independent" because Human Resources as a functional discipline is essential for all businesses that have employees. Every industry must have good talent to run their business.
How do you handle HR now?
HR can look very different for different businesses depending on the nature and size of their business. Some outsource every aspect of HR. Others do everything in-house and for yet others it's a mixture. Regardless, determining how effective your current approach to HR is in supporting your business needs is an important question to ask.
Does your current approach at HR management feel fragmented and frustrating?
Is your current outsourcing vendor delivering its promised offering consistently and well?
Does your internal staff have the bandwidth and acumen to manage all HR administrative areas efficiently while staying current on the ever-changing landscape of labor law compliance?
What are the opportunity costs of your current situation and if you could outsource all HR to a trusted partner, how would that impact the bottom-line?
How would shedding this non-core aspect of your business allow you to focus on revenue growth and improving your operations?
These and other considerations can help you determine if HR Outsourcing is a viable business alternative to explore.
5 Steps to Effective HR Outsourcing
The decision to outsource your administrative HR functions to a PEO, while not insignificant, has the potential to be a game-changer for your business. The following five-step process can be helpful as you evaluate and ultimately determine to pursue an HR outsourcing relationship:
Step 1: Determine Your Needs/Goals
Like any important business decision, knowing the end in mind can help you assess whether HR Outsourcing offers a good fit for your business or not. It's also important to decide what expectations may be driving your desire to evaluate viability of outsourcing your HR. Is this strictly a cost reduction play or are you looking to fix an unpleasant service provider relationship or is it to improve overall focus on business growth? Whatever may be driving your decision, it's important to articulate that upfront so both you and the PEO can have clarity on what is to be achieved.
Step 2: Analyze Your Current Costs
While cost savings may not be the main driver influencing your decision, understanding your current total cost of labor can provide a clear picture of spend and help the PEO build a business case that compares side-by-side your total current labor costs with the proposed solution cost of HR Outsourcing. Included in your cost analysis would be major payroll costs, including all federal and state withholding taxes, overall HR administrative cost (including internal HR costs and external vendor costs – like payroll), Workers' Compensation premiums, Health Care Premiums, and Retirement Benefits costs like 401K, etc.
Step 3: Configure the Solution
HR Outsourcing can take on different configurations, depending on your needs and situation. As a PEO, we offer two different models. The PEO model allows our clients to leverage state unemployment and workers' compensation rates by joining in a shared employment relationship under our Federal Tax ID. We also offer an Administrative Services Offering (ASO) where we provide strictly HR and Payroll services and the client stays under their own Fed Tax ID and procures their own Workers' Comp policy. The client's current cost and risk situation would determine the appropriate model that works best. In addition, you may have a employee benefits broker, as an example, that you love and with whom you want to retain your relationship. You may also have an internal HR manager and you simply want to outsource payroll, Workers' Compensation and Employee Benefits. Alternatively, perhaps you want to outsource your full HR needs to the PEO and have them provide a mix of on-site and off-site HR support for your employees. A good PEO can work with you to configure the appropriate solution.
Step 4: Proposal for Services
Once you have appropriately scoped the services that best meet your needs, the PEO will configure a proposal outlining the services they will provide that match the scope you and the PEO provider have agreed upon. This proposal should detail out in a transparent way any and all costs that will be associated with the scope of services, including any "extra" charges that are not part of the PEO's management fee.
Step 5: Implementation
Once you have agreed to move forward with the proposed services, the PEO will initiate an implementation process. That starts with a signature of the Clients Services Agreement that will incorporate all proposed services and detail fully the shared-employment arrangement you have agreed to enter in to with the PEO. From there, you'll work with an Implementation Team to capture all your specific requirements and unique details of your business and develop an implementation plan detailing out specific dates for conversion. The PEO will work to ensure as smooth of transition as possible. There will be bumps in the process, especially if you currently outsource to a vendor that is not happy about losing the business, but a good PEO will try to be the "shock absorber" to minimize some of that turbulence until you reach cruising altitude and can rest confidently knowing your in good hands with the right partner.
The Unexpected Value Proposition of HR Outsourcing
The decision to outsource one or more aspects of HR in your business is not a new concept. Payroll providers have been around for years. PEOs are also well established, providing services to 175,000 small and mid-sized businesses, employing 3.7 million people and, given future projections, that number will continue to grow rapidly.
The conventional benefits to outsourcing HR for small business owners are likely obvious. What may not be as obvious are some more unknown and unexpected advantages small business owners can witness by outsourcing their HR. Let me share a few.
Outsourcing, in general, is a powerful growth strategy for small business owners. Most know that surrounding yourself with a great attorney, CPA, financial advisor and business coach are table stakes for building a successful business. But consider adding to that "team" of advisors a team of outsourced partners – for IT, Bookkeeping, and HR. Finding the right experts in each of these areas can offload a huge administrative burden and give you access to best-in-class systems, technology and processes with which to manage these important functions of your business. Outsourcing will give you a strategic edge as you ensure you have the right people and technology to deliver on your business strategy with full impact.
Another advantage of outsourcing can infuse (especially HR) is Agility! As we seen in early 2020, things can change dramatically in an instant. Any number of different crises can happen that force business owners to make hard choices in a very short period of time. Many of those decisions will require you to take a hard look at the cost structure of your business and demand reductions in overhead/fixed costs. Labor costs represent a significant portion of overhead. If you have overhead tied up in administrative functions like HR, it is more difficult to be nimble and right-size your costs. HR Outsourcing services are based on a management fee that is a fixed percentage of your payroll, so when your payroll decreases, so does your cost outlay and vice-versa.
It's very difficult and expensive these days to find exceptional talent when it comes to staffing key functional areas of your business like HR. Business owners that are fortunate enough to find top talent will pay a premium to attract them and retain them, given demand in the marketplace. Outsourcing HR to a PEO gives you access to best-in-class talent that has years of experience and wisdom to help you manage your people operations and grow your business.
HR is not just about finding the right talent; it's also about investing in the right technology and infrastructure that can help set your business apart from the competition and give you a strategic edge. Speed in business today is paramount and having access to the right information at the right time to make important business decisions is critical. Outsourcing HR with a PEO partner will give you access to world-class technology used by the large companies without having to invest a fortune to acquire it. Also important is access to the HR systems, policies, procedures and tools that you'll gain by becoming a PEO client.
Finally, a huge strategic advantage in outsourcing HR is risk mitigation. In today's litigious society, risk mitigation has become a fundamental necessity for building a thriving small business. It takes one misstep, a wrong move by an employee, a call to the DOL, ICE or the EEOC to spark an audit and/or a lawsuit that can have a significant and lasting impact – both to your brand and your pocketbook. Why would business owners want to shortcut this potential risk in their business? Outsourcing your HR to a reputable and competent PEO not only allows you to create a co-employment relationship that shares in the risk of your business, but it also gives you a partner that has your back and is focused on minimizing risk in your business so you can focus on business growth. That's peace of mind and smart business!
All in all, conventional benefits of outsourcing HR are good, but pale in comparison to these lesser known, but far more significant advantages listed above.
How HR Outsourcing Saves You Time and Money
There are some real advantages to outsourcing your administrative HR functions to a PEO, one of the most significant being the direct impact to your bottom line.
To grasp what the total impact could be, business owners need to first know their current total cost of labor. When asked, most business owners would have a difficult time articulating this number, but essentially it's the combination of your wages, all federal and state payroll taxes, employee benefit premiums, workers' compensation premiums and HR administrative costs (a sample of which is included below):
HR – Employee Handbooks, P&P, Hiring/Firing, Pre-Employment Screening, Training & Development, Unemployment Claims, Labor Law Compliance, Workplace Conflict, Documenting Actions, Time and Attendance Solutions
Payroll – Processing, Taxes, 940/941s, W-2/W-3s, PTO, Sick Leave, Reporting, Software updates
Workers' Comp – Shopping, Deposit, Audit, Claims, Hearings, OSHA, Safety Training, Classification
Employee Benefits – Shopping, ACA Compliance, Eligibility & Notifications, Benefit Change Election, Premium Remittance & Reconciliation, COBRA/Mini-COBRA, HIPAA Compliance, Benefit Inquiries
Retirement Solutions and 401K – Shopping, Administration, ERISA Compliance, 5500 Filing, Fiduciary Management, Census Prep & Testing, Annual Audit
These administrative costs may be handled internally, outsourced or a combination of both, but regardless, research from the U.S. Dept of Labor, SBA and U.S. Chamber of Commerce show that HR administrative costs typically represent 3%-12% of payroll costs for small businesses with 1-50 employees. During our discovery process (as a courtesy), we usually can gather enough information to help determine a company's total costs of labor).
Working with a PEO can help reduce your overall total cost of labor, because you are leveraging the size and scale of the PEO and its accompanying technology and people to apply best-in-class strategies and systems to reduce that cost. Additionally, all the administrative time previously associated with these tasks can now be offloaded to the PEO, allowing you to re-direct that time to revenue-generating activities.
Furthermore, research commissioned by the National Association of Professional Employer Organizations (NAPEO) has found the following:
Businesses in a PEO arrangement grow 7-9 percent faster, have 10-14 percent lower turnover, and are 50 percent less likely to go out of business.
Administrative costs are around $450 lower per employee for businesses that use a PEO.
The average client of a professional employer organization (PEO) can expect a return on investment – based on cost savings alone – of 27.2 percent.
All things considered, outsourcing HR to a PEO provides a compelling value proposition for small business owners. If you are looking for Phoenix HR and payroll services, call Focus HR on 520-721-6777 for a free consultation today.
Source: https://www.napeo.org/what-is-a-peo/about-the-peo-industry/napeo-white-papers and https://www.napeo.org/docs/default-source/press-releases/white-paper-2019c8e44aac2ab0647c9e4fff00004fd204.pdf?sfvrsn=17542ed4_2